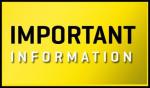 Game Cards
Referees are asked to place the signed game cards from every game in the field lockers for the rest of the season. 
Sometimes there are reasons for the league to consult these game cards after the game has been completed.  If they are returned to the coaches to take home, then this is not possible.
Last weekend at least 4 or 5 players were not allowed to play due to not having a valid, laminated, photo player card.  The coaches are all aware that this is a requirement so there should be no excuses and no reasons for any exceptions.